The Carter Symposium
Carter Symposium – Hosted by Dr. Jie Sun is scheduled for April 17, 2023.
The theme for 2019's Carter Symposium was "Novel Insights into Systemic and Cell Autonomous Control of Immunity". Frederic Geissman (MSK Cancer Center), Bana Jabri (Univ. of Chicago), John MacMicking (Yale), and David Schneider (Stanford). And this year's hosts were Melanie Rutkowski, Rebecca Pompano, Bimal Desai and Sarah Ewald.
2018's symposium was hosted by John Lukens, PhD (Neuroscience), and brought together leading researchers on the topic of "Balancing Immune Homeostasis and the Response to Danger Signals"
The Anderson Symposium
Before The Carter Symposium we had The Anderson Symposium.
The John F. Anderson Memorial Lectureship was established in 1955 by Dr. John F. Anderson, a graduate in 1895 of the University of Virginia School of Medicine. Through his most generous gift to the University, it has been possible to establish a lectureship in medical science and public health, which will bring to this medical community, the latest developments in these fields.
Scroll down to view symposiums over the years.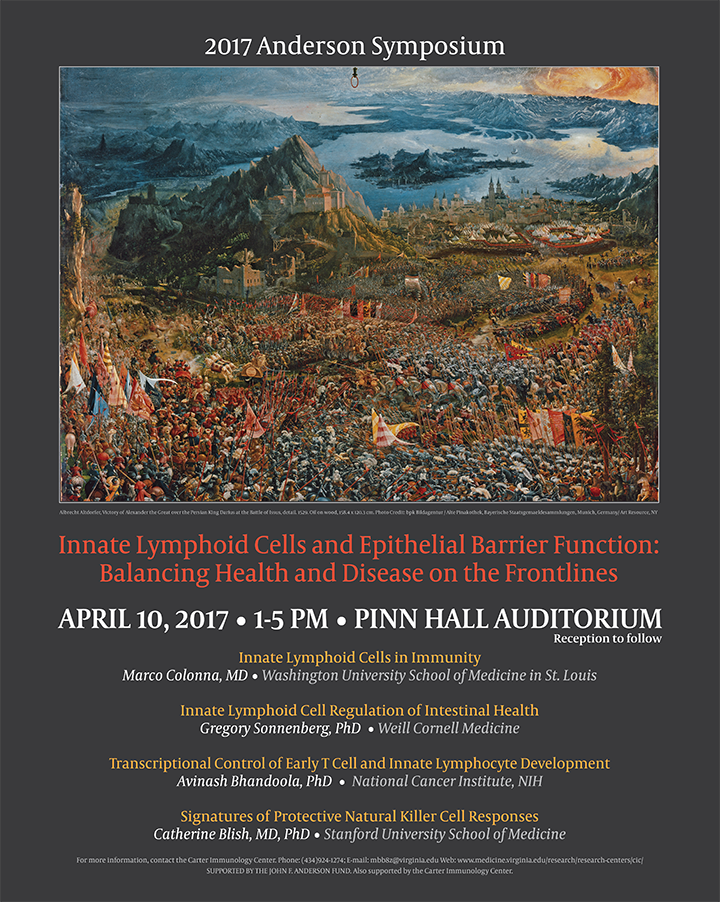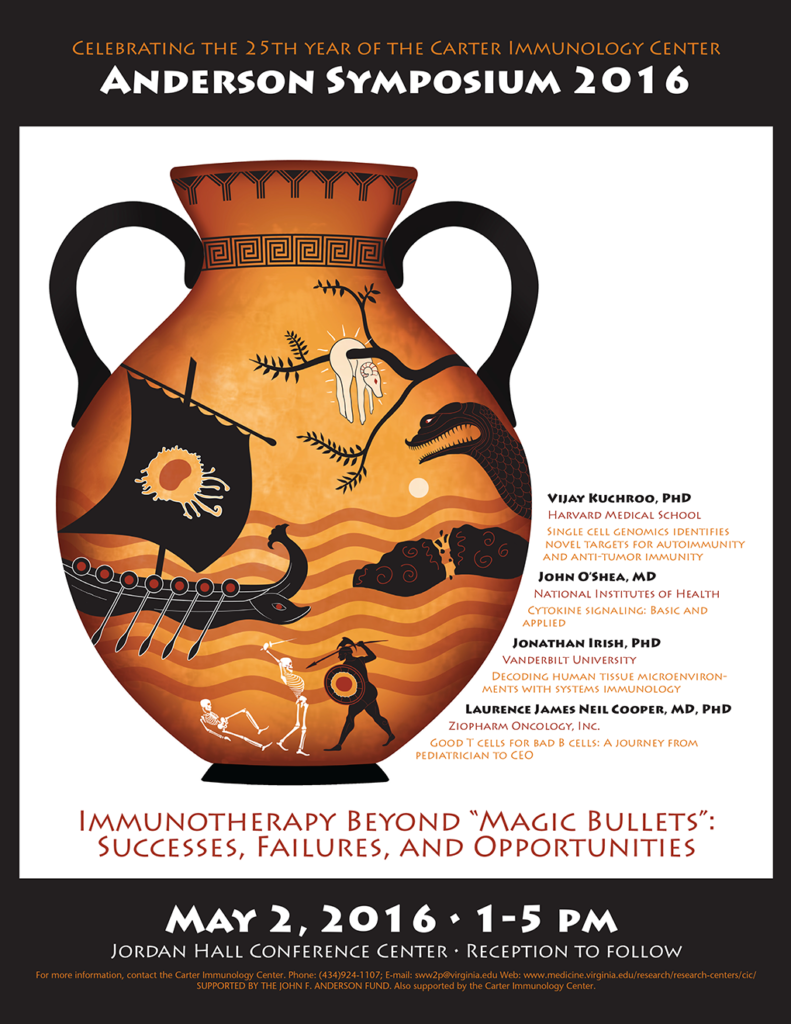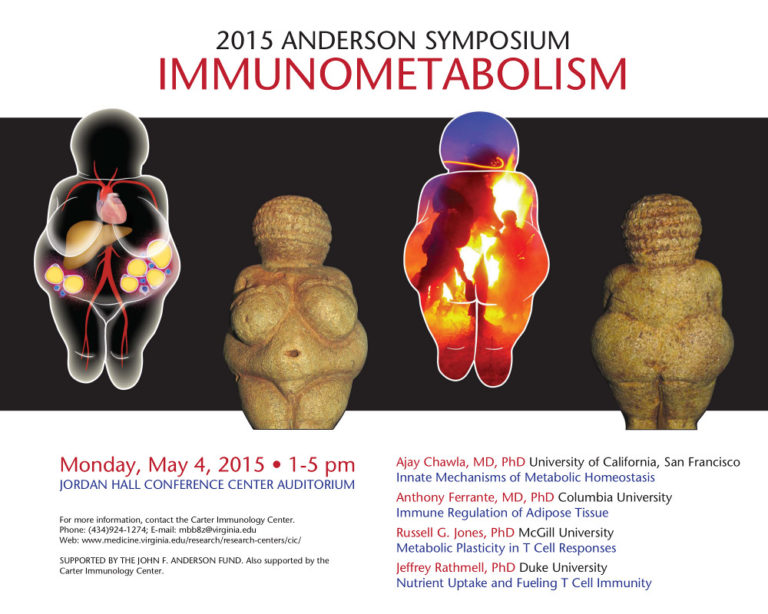 2003 — Initiation and Regulation of the Immune Response
(Chair, Kodi Ravichandran)
Chris Bleackley, PhD, FRSCThe University of AlbertaViruses and attack of the killer T cellsStephen C. Jameson, PhDUniversity of MinnesotaSelf awareness in T cell regulationAnn Marshak-Rothstein, PhDBoston University School of MedicineComplex activation of systemic autoimmune diseasePamela L. Schwartzberg, MD, PhDNational Human Genome Research InstituteT lymphocyte signaling and function2002 — Plagues of the 21st Century: HIV, Viral Hepatitis, Tuberculosis, and Malaria(Chair, Dean Kedes, MD, PhD)Harvey J. Alter, MD, FACPDept. Transfusion Medicine, NIHNatural History of Hepatitis CBeatrice H. Hahn, MDUniversity of Alabama at BirminghamPrevalence, Distribution, and Diversity of SIVcpz in Wild Chimpanzees
William Jacobs, Jr., PhD
Albert Einstein College of Medicine
Tuberculosis VaccinesLouis H. Miller, MDHead, Malaria Vaccine Development Unit, NIHMalaria Pathogenesis to Vaccine DevelopmentDuane J. Osheim, PhDUniversity of VirginiaRenaissance Plagues in an Age of Emerging Diseases
2001 — Viral Pathogenesis and Immunity
(Chair, David Camerini)
Robert Wagner, MD, University of Virginia, A Largely Personal Half-Century Perspective of Virology, George Miller, MD, Yale University School of Medicine, Switch between Latency and Lytic Cycle of Epstein-Barr Virus and Kaposi's Sarcoma Herpesviru, sEckard Wimmer, PhD, State University of New York @ Stony Brook, Determinants of Neurovirulence: Can Poliovirus be Harnessed for the Treatment of Human Brain TumorsRon Swanstrom, PhDUniversity of North Carolina @ Chapel HillHIV Evolution as a Probe for Virus-Host Interaction, sBrigitte Autran, MD, PhD, Hospital Pitie-Salpetriere, Immune Reconstruction and Rationale for Immune-Based Intervention in HIV Infection, Andrew McMichael, F.R.S., PhD, The John Radcliffe Hospital, The Battle Between HIV and the Immune System
2000 — Infection and Immunity: Where are we and Where are we going?
(Chair, Ulrike Lorenz)
Rafi Ahmed, PhD
Emory University
Immunological memory to viruses, Thomas J. Braciale, MD, PhD,University of Virginia, Paradigms and paradoxes in the host response to Respiratory Syncytial Virus
Stefanie Vogel, PhD
Uniformed Services University of Health Sciences
The role of macophage and macrophage-deceived mediators in gram negative sepsis: where we are and where we're goingStephen Lory, PhD, University of Washington, DNA microassays as tools for understanding host-pathogen interactions 1998 — Interaction with the Host (Chair, Joanna Goldberg) Diane Griffin, MD, PhD, John Hopkins School of Hygiene/Public Health, Measles and the role of the immune response in disease, Arturo Casadevall, MD, PhD, Albert Einstein College of Medicine, Cryptococcus neoformans: host cell-fungus interactions provide new insights into mechanisms of pathogenesis and host defense, Brett Finlay, PhD, University of British Columbia, Enteric pathogen interactions with host cells, Alan Sher, PhD, National Institutes of Health, Initiation and regulation of host resistance to an intracellular pathogen, Toxoplasma gondii
1997 — Intracellular Parasitism: Entry and Survival
(Chair, Tim Bender)
Robert Doms, MD, PhD, University of Pennsylvania. Unwelcome guests with master keys: How HIV-1 uses chemokine receptors for cellular entryDaniel Portnoy, PhD, University of California, Berkeley, How Listeria monocytogenes enters the cytosol and exploits a host system of actin-based motility to move from cell to cellHidde Ploegh, PhD, Massachusetts Institute of Technology, Viral evasion of the immune system, David Russell, MD, PhD, Washington University, Mycobacterium, a bitter pill to phagocytose