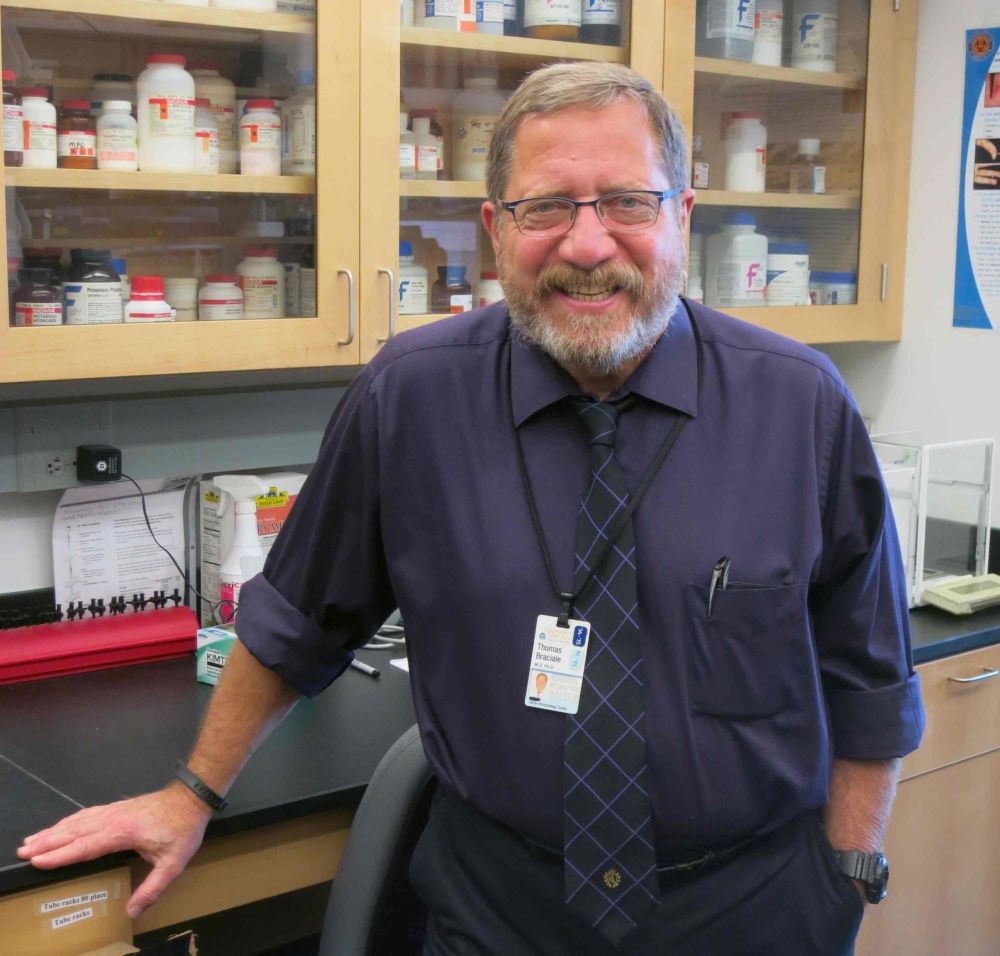 It is with great sadness we share news about the passing of a dear friend and colleague, Thomas J. Braciale, MD, PhD. Dr. Braciale passed away Friday, May 19, 2023 with his family at his side.
Dr. Braciale was a globally recognized authority in the field of immunology, a professor at the University of Virginia (UVA) in pathology and microbiology for over three decades, and founding director of the Beirne B. Carter Center for Immunology Research (CIC). His work in the areas of T cells, dendritic cells, and respiratory immunity established him as an impactful leader in immunological research.
Tom was the first member of his family to earn a college degree, obtaining his Bachelor's degree in Science from St. Joseph's University. He went on to receive MD and PhD (Microbiology) degrees from the University of Pennsylvania. After completing a residency in pathology at Washington University in St. Louis, he began his career in academic medicine and research there, quickly establishing himself as a leader in discovering molecular and cellular mechanisms that underlie pathogen-host interactions, most notably the interplay between influenza virus, respiratory epithelium and immune cells. He rose to the rank of tenured professor at Washington University and was then recruited to UVA to take the role of director of the Beirne B. Carter Center for Immunology Research and to join the Department of Pathology at the rank of professor.
He had a productive and distinguished career, having authored over 180 publications and winning several awards including the Eijkman Medal for Immunology and Infectious Diseases from Utrecht University in 2002. Tom served on several advisory boards and committees at peer institutions, national organizations and the Federal Government, including U-19 scientific advisory committees at the University of North Carolina, Wake Forest University and the Milwaukee Blood Center, and several advisory committees for the National Institute of Allergy and Infectious Disease, including memberships on the Oversight Committee of the NIAID Center of Excellence in Influenza Research and Surveillance and the Board of Scientific Counselors of the NIAID Vaccine Research Center. In addition, he served as associate editor for four scientific journals: Clinical & Experimental Immunology, Immunology and Cell Biology, Virology and Molecular Biology and Medicine.
Throughout his extraordinary career in research, he remained committed to education, imparting knowledge to undergraduate, graduate, post-doctoral fellows and medical students. He was most proud of his role as an educator and mentor, serving as research mentor for many PhD graduate students and post-doctoral fellows in his laboratory and participating in the UVA School of Medicine Biomedical Sciences Training Program. He was generous in his time with his colleagues and served as mentor to many junior faculty. He will be remembered gratefully for guiding the Carter Center to national prominence through his recruitment of world-class faculty and his own research efforts.
Tom will be deeply missed by his colleagues and friends in the School of Medicine Departments of Pathology; Microbiology, Immunology, and Cancer Biology; Beirne B. Carter Center for Immunology Research; and across the University and world. As a leader within the UVA Immunology community, he cultivated a collaborative and groundbreaking atmosphere that has continuously driven the progress of immunology research at UVA.
Visitation will be on June 2, 6-8 p.m. at Teague Funeral Services 2260 Ivy Road, Charlottesville.  A Funeral Mass will occur on June 3 at 11:00 a.m. at St. Thomas Aquinas Church 401 Alderman Road, Charlottesville. A reception will follow at Boars Head in the Pavillion. More details can be found at https://www.dignitymemorial.com/obituaries/charlottesville-va/dr-thomas-braciale-11297834
To commemorate Dr. Braciale's lasting influence at the University of Virginia School of Medicine, a scholarship fund is being established to support aspiring first generation college students like Dr. Braciale who are pursuing careers in the biological sciences. The family requests that in lieu of flowers, contributions be made to this scholarship fund:  https://www.immunology.virginia.edu/thomas-braciale-scholarship or Thomas J. Braciale Scholarship Fund (thomasjbraciale.org) to register prior to establishment of the fund.